The first, legitimate thought that comes to the mind is: is it profitable?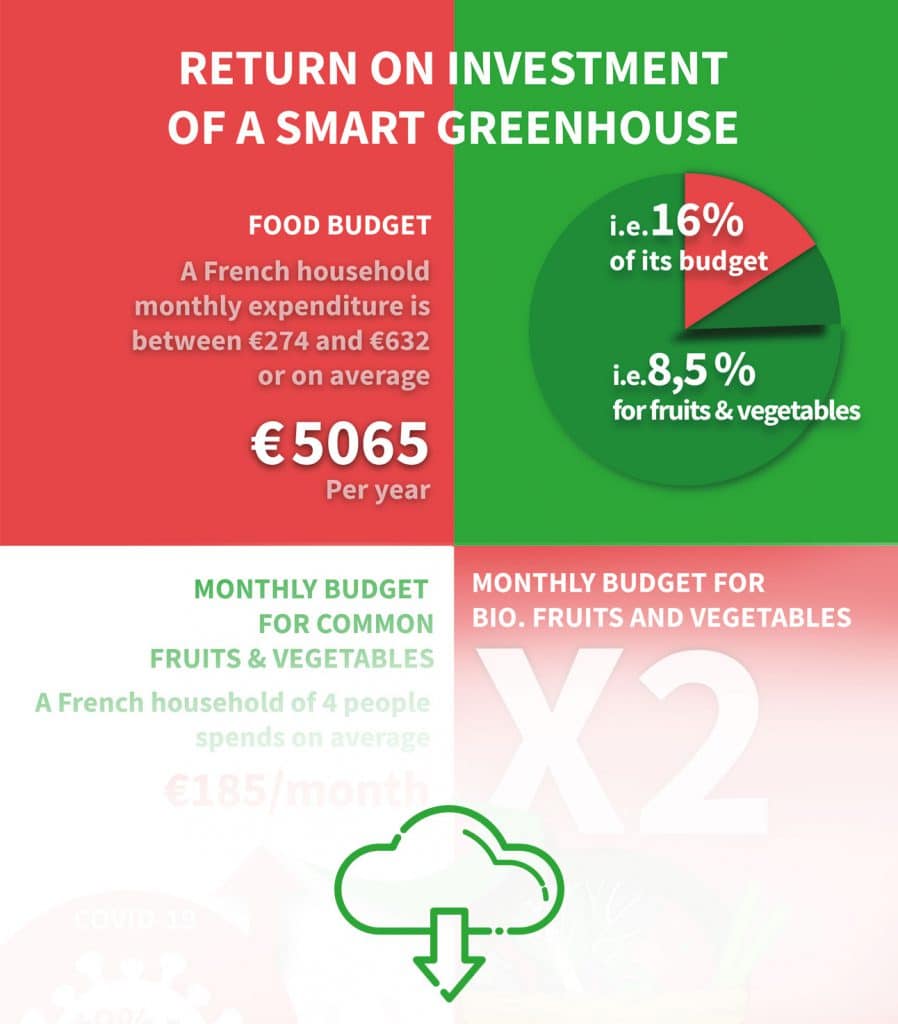 In the traditional channels: eat 5 fruits and vegetables a day, fine!
But at what price?

Did you know that the French consumption of fruits and vegetables in conventional distribution channels is €185 per month for a household of
4 people for a nutrition of less than 350 grams per day well below the 400 grams recommended by the French National Health Service (PNNS).
The French therefore seem to be undergoing a paradox, since more than 84% of them are convinced of the benefits and importance of fruits and vegetables in their daily consumption.

What about you? Participate to our study
Budget for food in a French household
A French household spends between €274 and €632 per month or on average €5065 per year. The food consumption varies between owners and tenants depending on the standard of living. Fresh fruit and vegetables account for about 16% of total household expenditure and constitute 8.5% of their food budget.
The disparities between modest and well-off households are no longer narrowing. Compared to the wealthiest 20% of households, the poorest 20%, depending on whether they own or rent, spend 6 to 7 points more of their budget on food at home.

Moreover, price is the first factor of choice for 42% of households when shopping.
Taste quality is a distant second, at 12%. As for family habits, they are reduced to bending to budgetary realities, with only 8% of French people considering them to be a primary criterion of choice.
And the 'nutritional content' criterion does not even exist, even though we eat first and foremost to feed ourselves!
Containment: fruits and vegetables prices have risen !
A French study by UFC-Que Choisir shows that the prices of common fresh produces have increased by 9% on average during containment and by 12% for the "Panier Bio" relates le Parisien.
Taking into consideration the impacts of containment :
A 4-person household with a conventional fruits and vegetables consumption pays on average €185/month, compared to €372 for a family with an Bio. diet.
Assumed increases: according to Jacques Creyssel, General Director of the Federation of Commerce and Distribution (FCD).
Factors explaining the price increase are the relocation of long circuits to shorter ones by sourcing from French producers who offer products that are significantly more expensive than European competitors such as Spain and outside the European Union such as Morocco.

Added to the production cost are the sanitary measures in this period of pandemic and higher transport costs according to the president of Interfel. International transport has led to a strong increase in their cost: +30% according to Laurent Grandin, the president of Interfel, the interprofession of fresh fruits and vegetables
Finally the overpacking to reassure the customers inexorably causes an extra cost on the final receipt…
French Supermarkets promise to lock-up prices, but for how long? Until August, but after… What will happen?

What about you? Participate to our study and estimate your own ROI
Fruits and vegetables & yummy pesticides!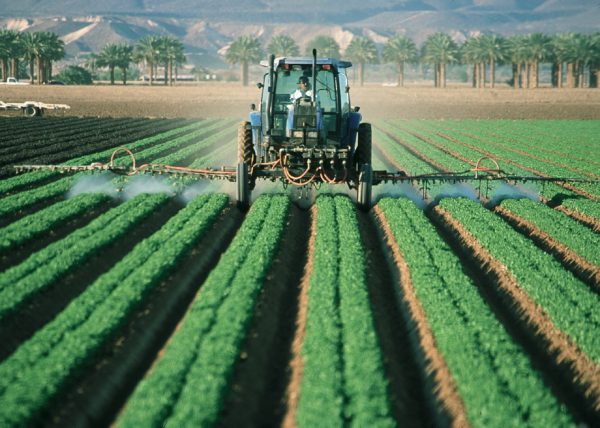 According to the association Future Generations, 72% of fruits and 41% of vegetables contain pesticides!

The association Pesticide Action Network Pan Europe (based on data from the European Food Safety Authority) points out that the majority of pesticides contaminating fruits and vegetables are endocrine disrupters that are harmful for the hormonal system.
The association has deduced a list of the 18 most polluted fruits and vegetables! Among which: Eggplant, Carrot, Lettuce, Cabbage, Cucumber, Spinach Tomato, Strawberry, Cauliflower, Peach, Peas, Pepper, Apple, Potato, Leek, Grape.
Smart Greenhouse or not?
Our smart greenhouses have been designed to meet these requirements and offer consumers alternatives. Let's take the example of a Family22 Production greenhouse.
Its purchase cost is : 11 630€ including all taxes with the Aerospring module included, delivery included in France
ROI calculation per budget transfer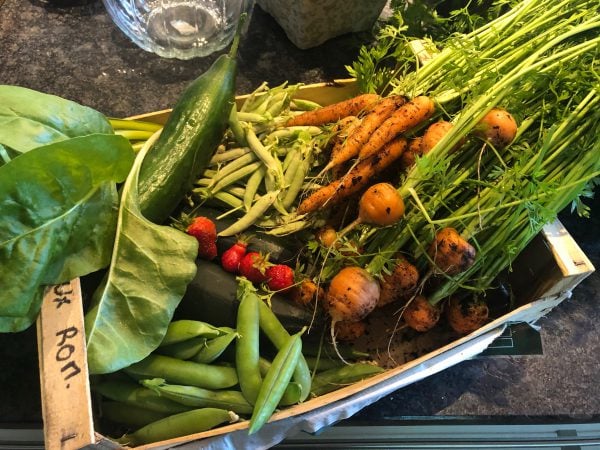 The budget usually allocated to the purchase of fruits and vegetables in the store is carried over to a productive investment.
The Smart greenhouse can produce up to 80% of the nutritional needs for a 4-person household.
By taking the price values only for standard fruits and vegetables for a 4-person household: the family would see its return on investment around 6.6 years.
If we do the same exercise for a 4-person household with a Bio. diet: the family would see its return on investment around 3.5 years.